The Kirk and Farrington Families
The patriarch of the Kirk-Farrington family was Theophilus Kirk. He was born on Yellow Creek, Jefferson County, Ohio on March 26, 1832. His parents were Theophilus Kirk, Sr. and Elizabeth Lowe Kirk. When young Theophilus was about five years old, the family relocated to Utica, Illinois, where his father purchased a flour and saw mill. The senior Mr. Kirk passed away three years later, in 1840. After the death of her husband, Mrs. Kirk moved her home and family of five children (Theophilus, Socrates, Michael, John, and Susan) to Iowa, settling seven miles from Dubuque at the Kirk's Hill Ranch. There, on the family ranch, Theophilus spent the rest of his childhood and youth.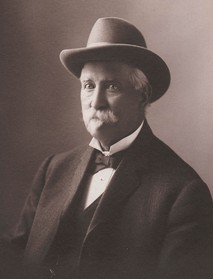 In March of 1853, twenty-one year old Theophilus and his brother Socrates set out West to seek their fortunes. Their brothers Michael and John had preceded them to California, so the pair knew that they had family waiting out West who could help them get settled. Along with a party of men, Theophilus and Socrates drove a herd of cattle and horses across the country. It took the men over six months to traverse the continent from Missouri to California, following the North Platte Route. Arriving in California, they settled briefly in Sonora where they contracted to haul logs.
With the money raised from these ventures, Theophilus and Socrates were able to purchase 428 acres of land in Santa Clara County in 1858. They paid $8 an acre. This land was originally part of the Rancho San Juan Bautista Mexican land grant. They became ranchers, among the first in what would soon become a valley full of pastures, fields, and orchards. In 1881, the Kirk brothers purchased an adjoining 376 acres and expanded the ranch to include fruit trees, wheat, and barley.
Life on the Kirk Ranch
The area where the Kirks ranched came to be known as "The Willows" because of the graceful willow trees that shaded its riverbanks. Though it was located just four miles from downtown San Jose, California, it was truly another world. Downtown dwellers enjoyed going on Sunday outings to The Willows to have a picnic in the country. Today, this area is a suburban neighborhood called Willow Glen.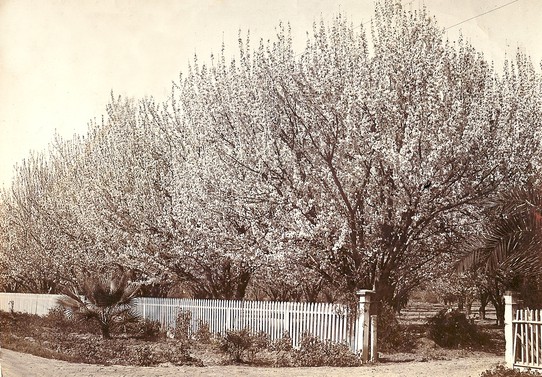 The Kirk brothers saw a future in growing fruit and became pioneers in the dried fruit industry. They were also entrepreneurs who understood that the Valley could not thrive without a reliable source of water.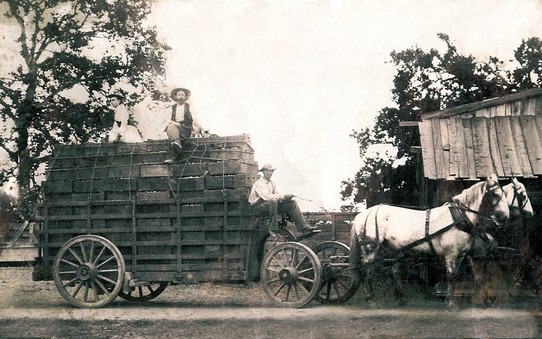 They founded the Kirk Ditch Company, established in 1859, which introduced irrigation techniques and piped water to the Valley's farms and orchards. Both brothers became quite prosperous from these ventures and were able to expand their business empire into areas beyond ranching. They built a number of fine buildings in downtown San Jose, some of which are still standing today. Over the years, the Kirks grew to be men of prominence and influence in Santa Clara County.
Kirk Family Life
Socrates Kirk married Louisa Guerraz, daughter of a ranching family that resided on a large tract of land in the east San Jose foothills. The Guerraz ranch would later become Alum Rock Park. Socrates and Louisa built a Queen Ann-style Victorian home on the Kirk ranch, located at the intersection of what is now Adele Place and Dry Creek Road. The house was burned in the 1960s to make way for a housing tract. Socrates and Louisa had four surviving daughters -- Eva, Emma, Susie, and Mary Elizabeth -- and one surviving son, Bert. Emma and Mary Elizabeth married sons from the Booksin family, a well-known name in the San Jose agricultural and business community. Susie married Winsor Goodenough and they lived in a gingerbread Victorian, which still stands just down the street from the Kirk-Farrington house. Bert married May Hamilton, daughter of another prominent valley family. In later life, Socrates deeded each of his children tracts of land from his portion of the ranch. Bert took over the family business and became a successsful rancher and businessman. Socrates Kirk died in 1906 at the age of 74.
Meanwhile, forty-six year old Theophilus was ready to settle down. He began courting twenty-five year old Elizabeth (Lizzie) Chestnutwood, a schoolteacher from Stockton, California and daughter of Eli and Eliza Chestnutwood. In March of 1878, the couple married. Mr. Kirk built a large Italianate-style Victorian house for his bride on the Kirk Ranch and the couple took up residence there. The house is known today as the Kirk-Farrington House.
Lizzie Kirk was an avid painter and a member of a local painting group. During summers at the family vacation house in Pacific Grove, California, Mrs. Kirk took watercolor and oil painting classes from Mr. John Joseph Ivey, a well-known painter of naturalistic landscapes. Several of her still-life oil paintings adorn the walls of the Farrington house today. One interesting piece, a nautical scene, is painted on a portion of sailcloth from a ship that ran aground in Monterey, California.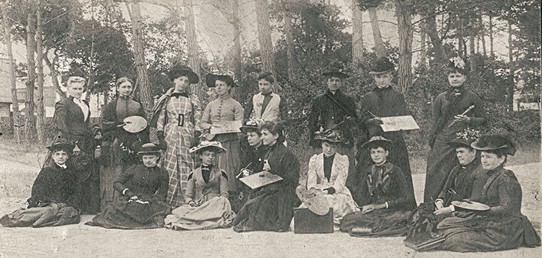 Within the first two years of her marriage, Lizzie Kirk gave birth to the couple's two daughters. Ethel Eliza Kirk was born on March 16, 1879. Her younger sister, Edith Louisa Kirk, was born the following year on September 25, 1880.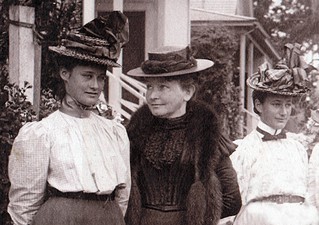 The girls were educated in San Jose and lived the life of cultured young ladies. Socially-minded young women, Ethel and Edith were both charter members of the Young Women's Club of San Jose. This auxiliary of the San Jose Women's Club was incorporated in 1903 with the purpose of promoting "acquaintance, good fellowship, and cooperation among young women of the city and vicinity, and to furnish a stimulus to intellectual growth and culture among its members."
Edith Kirk married John Dorrance. They lived in a large home on the Kirk Ranch about a block from the Kirk-Farrington House. It still stands today, though it is no longer in the family. The Dorrances had one son named Jack.
The Farringtons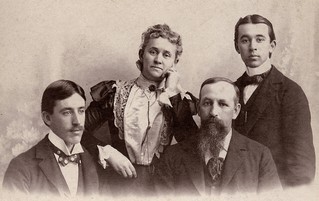 In 1904, at the age of 25, Ethel Kirk married Sidney Farrington, son of Melvin Farrington and Jessie Williams Farrington. The Melvin Farrington family lived on nearby acreage on Hicks Avenue in San Jose. Besides Sidney, the Farringtons had one other child, a son named Perry.
On July 27, 1905, Ethel gave birth to her first and only child, Theo Kirk Farrington. On that day, his grandfathers planted a redwood tree beside the Kirk-Farrington house to commemorate the boy's birth. The magnificent "Theo Redwood" tree is now nearly 100 feet tall and over 100 years old.
Theophilus Kirk lived a long life for a man of that era. He died in 1915 at the age of 83. After her father's death, Ethel inherited the family home. Ethel and Sidney Farrington resided on the Kirk Ranch in the Kirk-Farrington house for the rest of their lives.
Before his marriage, Sidney Farrington was something of an adventurer. He traveled to Alaska during the Klondike gold rush in the late 1890s and spent two years prospecting for gold.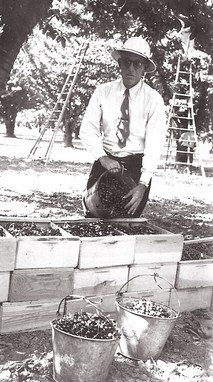 After he settled down with Ethel, Sidney ran the family ranch and grew it into a thriving enterprise. Under the S.D. Farrington Orchards banner, he shipped cherries, apricots, prunes, and peaches to markets and canneries all over the Santa Clara Valley, as well as to out-of-state markets.
Sidney later became the head of the water conservation district for Santa Clara County. He built seven local reservoirs, including Vasona, Lexington, Almaden, and Guadalupe. He was also active in the San Jose Rotary Club.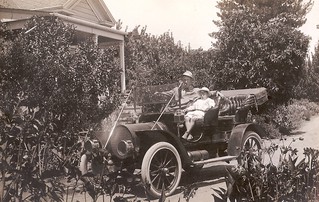 Socially conscious as well, Ethel became president of the Women's Exchange in San Jose. Started in 1832, the Woman's Exchange movement is one of the country's oldest continuously operating charitable organizations. The San Jose Exchange ran a consignment shop that gave local women a place to sell baked goods and other home-produced items to supplement their family incomes.
Ethel also loved flowers and gardening. In the 1930s, she obtained a few peony shoots from a friend named Mrs. Clayton. She planted these in the front of the house near the steps. In 1935, after reading an article in Sunset Magazine about peony propagation, she tried hybridizing her peony plants to get more colors. She was successful and many of the plants in the Farrington garden today are very old plants created and grown by Ethel Farrington.
Meanwhile, young Theo Farrington grew up on the ranch. He enjoyed the outdoor life, especially working with the horses.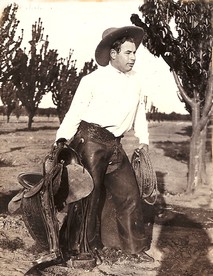 He attended elementary school in San Jose and Campbell, CA, where he originally met his future wife, Dorothy Bogen. As an adolescent, he was enrolled for a time in the William Warren Military Academy in Menlo Park, CA. He attended San Jose High School, where he played varsity football. He attended Stanford University in the late 1920s. It was at Stanford that he and Dorothy Bogen renewed their childhood friendship and began dating. They announced their engagement in 1929 and were married in the fall of 1930.