Harvesting our Valley's Orchards
Village Harvest
Village Harvest is a volunteer organization that harvests extra fruit from backyards and orchards throughout the Bay Area, and then passes it along to local food agencies to help feed the hungry in the community. Since 2001, volunteers have harvested over 3 million pounds of fruit, which resulted in more than 8 million servings of nutritious food that might otherwise have gone to waste. Given the Kirk-Farrington family's long history as Valley orchardists, working with Village Harvest is a perfect complement to the Foundation's mission. Over the past 10 years, we have funded numerous Village Harvest orchard harvesting projects, as well as contributed fruit from trees on our own 2-acre property in Willow Glen.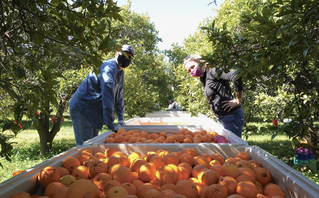 One recent project that we helped fund was Village Harvest's partnership with a local commercial orange grower in North San Jose. The family has worked the 14-acre ranch for 106 years, but Covid brought too many harvesting challenges, right when the oranges were ready to pick. Village Harvest volunteers descended on the property and gleaned an amazing total of 137,00 pounds of fruit, which was then distributed to food banks throughout the Santa Clara county and beyond.
Farrington has also helped fund projects to harvest small, historic orchards throughout the Santa Clara Valley. Most of these heritage orchards, located primarily in public lands such as open space districts, city parks, and state parks, have gone un-harvested for years. Village Harvest is making them productive again by capturing their fruit for the needy. Our grants underwrote the planning and coordination for large-scale harvesting of the historic orchards by hundreds of volunteers and brought thousands of pounds of cherries, apples, plums, and pears to our local food banks. Harvesting highlights included gleaning a 150-year old apple orchard that was planted during the Gold Rush, picking cherries in the Guadualupe Historic Orchard, and visiting with the 95-year old owner of a heritage apricot orchard that dates back to earlier days in the Valley of Heart's Delight.