Bringing Art Treasures to Light
The Triton Museum of Art
Between 1968 and 1978, the Triton Museum of Art was fortunate to be gifted 48 paintings from the estate of California impressionist painter Theodore Wores. Mr. Wores was born in San Francisco in 1859 and called the Bay Area home for most of his life. Primarily a painter of outdoor scenes in the plein air style, he traveled the state capturing the beauty of our mountains, woodlands, and rural valleys. His luminous California works shimmer with color and light. His paintings can be found today in collections including those of the Honolulu Museum of Art, the Crocker Art Museum, the Smithsonian Museum of American Art, and the White House.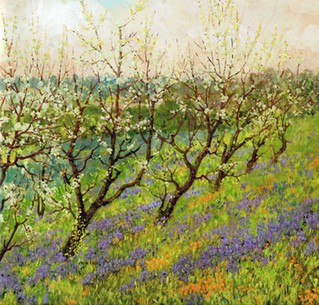 The Triton came to Farrington with a request to fund cleaning and restoration of 25 of the works in its collection. These paintings are a mix of oil paintings and watercolors painted in and near Santa Clara Valley between 1910 and 1930, depicting orchards, meadows, and mountain landscapes. Some works simply needed a light cleaning. Others required more thorough restoration including removal of dust, dirt, mold and discolored varnish, and canvas re-stretching. The goal was to mount a major local exhibition at the Triton to benefit Bay Area audiences, after which the paintings would be made available for tour to other museums throughout the United States.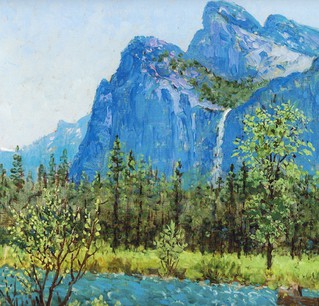 Farrington provided two grants, first to fund the restoration of the collection, and second to prepare the collection for tour. Theodore Wores spent a lifetime capturing the expressive beauty of the lovely California landscape. Farrington was thrilled to be part of making these hidden treasures again available for people to contemplate, study, and enjoy.