Wireless Headsets for Audio Tours
Preservation Action Council of San Jose
The Preservation Action Council of San Jose (PAC-SJ) is dedicated to preserving the diverse architectural and cultural heritage of the city of San Jose, California. As the Valley of Heart's Delight has given way to Silicon Valley in the past few decades, all too often the unique historic buildings of the city have fallen to developers' bull dozers. Through advocacy, education, and civic engagement, the Preservation Action Council works to identify, save, protect, and conserve remaining historic structures and sites. Current protection campaigns, for example, include saving the 1935 Diridon Train Station from demolition, rescuing iconic neon signs (and perhaps one day displaying them in full glory in a neon sign park) and repurposing San Jose's 1958 Modernist city hall building..
Education is a key element to historic preservation. You may have walked past an old building for years, never knowing that it was once the site of an important historical event, or the home of a prominent valley pioneer, or an example of a famous architectural style. Public awareness of the hidden treasures of our city can rally the local community to play a big role in preserving them.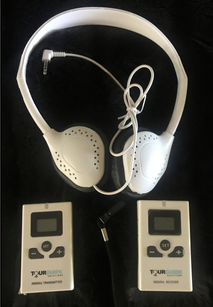 One of PAC-SJ's educational initiatives is a series of local walking tours that take participants to historic sites and neighborhoods throughout the San Jose area. However, due to safety concerns, the Covid pandemic put an end to the 2020 tour schedule. As 2021 approached, PAC-SJ came up with a creative proposal to resume tours through the use of wireless audio headsets. Wearing the headsets, participants would be able to enjoy the tour guide's presentation while spread out at a safe social distance.
A Farrington grant funded purchase of the headsets, which were used on all tours throughout the 2021 season. The program featured six tours of 5 historic neighborhoods, and drew 144 attendees. All tours were sold out and attendee feedback on the audio equipment was consistently positive. As a result, PAC-SJ will expand its tour program in 2022 and beyond, with plans to highlight additional historic neighborhoods, buildings, and themes.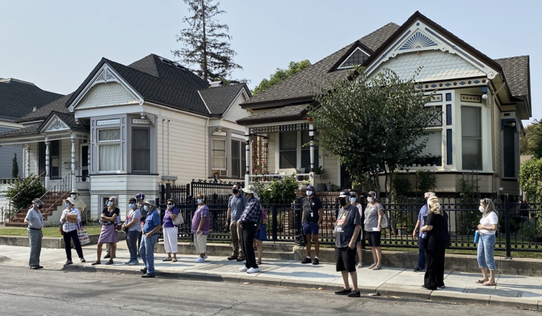 This one-time headset purchase will support and enhance PAC-SJ's tour program for years to come. Farrington is pleased that this investment in technology has helped PAC -SJ continue its good work educating folks about the historic treasures found in San Jose. We hope it will inspire future generations of preservationists, as well.