Operation School Bell
Assistance League of Los Gatos-Saratoga
The Assistance League is a national service and philanthropic organization with over 120 chapters throughout the United States. Dedicated volunteers work to provide programs and services that enrich the quality of life in their communities. One such program is "Operation School Bell" (OSB). Begun in 1994 to help low-income elementary schoolchildren improve attendance and academic performance, Operation School Bell has grown to become the League's signature initiative.
The goal is to help children succeed in school by providing learning essentials including: new school clothing; health assistance such as hearing, vision and/or dental care; and literacy, cultural and higher educational enrichment.
Each chapter researches specific needs in their local communities, then develops, funds and implements OSB programs that support those needs. 
Farrington has supported the Los Gatos-Saratoga League's OSB fund-raising for many years through both community and director grants. The Los Gatos-Saratoga chapter works with the Campbell Union, Moreland, and Luther Burbank School Districts by focusing on four main areas: literacy programs to improve reading; scholarships to send students to science camp; STEM (science, tech, engineering, and math) activities; and school clothing.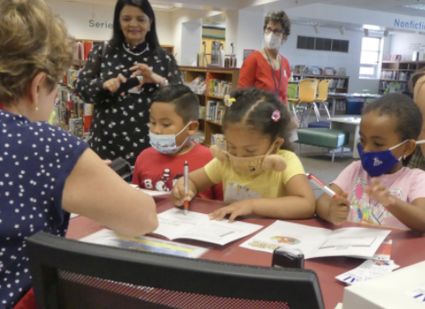 During 2021, the Los Gatos-Saratoga League reported that more than 40,000 students from kindergarten through community college level benefitted from OSB programs. Due to covid restrictions, on-site tutoring and mentoring were suspended. However, the OSB program prevailed as local teams still managed to assemble and deliver 1,000 literacy/writing kits, award five $1,000 science camp scholarships, provide 588 STEM kits to 134 classrooms, and supply in-need kids with 408 jackets, 530 pairs of shoes, and scores of hygiene kits.
The League meets annually with school district staff, volunteers and teachers to be sure that OSB is meeting the needs of each district. This feedback helps the program to continue its work of making a difference in the lives of the students.