Restoring an Historic Landmark
Ashworth-Remillard House
The Ashworth-Remillard House is an 1864 farm home built by Gold Rush pioneer John Ashworth on his 160-acre ranch in San Jose. In 1891, Ashworth sold the house and land to Pierre Remillard, owner of the Remillard Brick Company in Oakland. Remillard was attracted to the ranch because its creek beds contained abundant natural clay deposits. There, Remillard set up a brickworks and until the 1950s, the land provided clay to make millions and millions of pressed clay bricks, a popular building material used throughout the Bay Area.
Though listed on the National Register of Historic Places since 1976, the Ashworth-Remillard House fell into a state of serious disrepair over the years. It is now owned by an all-volunteer, tax-exempt organization whose goal is to restore the house and grounds for the community to use and enjoy.
A recent Farrington grant provided funds to repair the flat roof over the sunroom in the main house. The roof had been patched many times and was covered with tarps to keep out moisture and rain. Further, a large hive of bees had infiltrated a portion of the ceiling in the sunroom, causing further damage to the structure and threatening the interior of the house.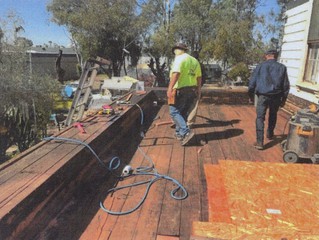 Led by a local roofing contractor, a group of volunteers peeled off layers of asphalt roofing material and sailcloth, eventually exposing the roof's understructure. They then applied a sealant and coated the roof with a waterproof, flexible membrane. As drainage is vital on a flat roof, they sloped the repair so that runoff goes down a drainpipe and away from the house's foundation. Best of all, the project came in under budget. With remaining funds, the volunteers were also able to replace the kitchen roof and re-seal two exterior porch roofs.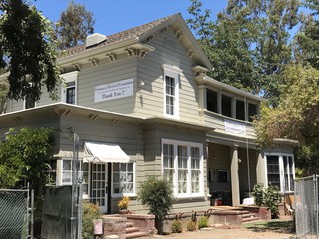 Farrington applauds the determination and enthusiasm of the Ashworth-Remillard volunteers. Through their single-minded dedication, they are preserving an important remnant of our Valley's historical heritage. The restored sunroom now houses the visitor entrance to the historical house and a gift shop.