Restoration of a 1911 REO Power Wagon
History San Jose
San Jose's History Park is a tree-lined, old-fashioned "town" filled with restored clapboard homes, a one-room schoolhouse, a firehouse, and businesses including a bank, ice cream parlor, livery stable, blacksmiths' shop, printers' shop and the grand Palace Hotel. On weekends, Docents stroll in vintage attire. Trolly cars and antique vehicles transport visitors around the park. Visiting this unique place is definitely a step back into the early days of San Jose.
History San Jose, which runs the park, has the mission of preserving and enriching the cultural heritage of San Jose by bringing history to life. Over the years, History San Jose has become the repository of an amazing storehouse of artifacts that depict life in the Valley of Heart's Delight from pre-settler days through today.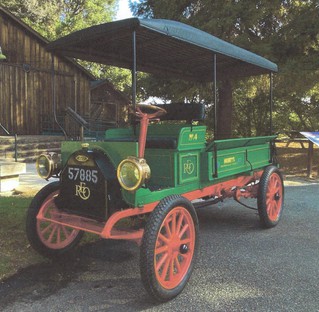 One recent acquisition was a 1911 REO Power Wagon, originally owned by the Heney family of Cupertino. The REO Power Wagon, an open bed hauler, is considered to be the grandfather of the modern pickup truck. Built on a heavy duty frame with a three-quarter ton capacity, it featured a long cargo bed and good maneuverability around tight city streets. The Heneys, proprietors of Heney Mountain Vineyards and Cellars, used the vehicle in the early 1900s to transport wine cases and barrels between the winery and the railroad depot.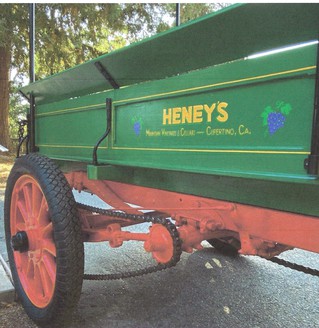 A recent Farrington grant provided funding to completely restore the old truck, which had deteriorated over the years and was not in working condition. Dedicated volunteer mechanics restored every bit of the antique truck, painted it to match its original finish, and brought it back to running order. It is now a stylish vehicle in the line-up of antique cars and runabouts that tour the park on weekends for all to enjoy.