Lifted Spirits
Front Door Communities of San Jose
Front Door Communities of San Jose supports the unhoused population in downtown San Jose. Working with local partners, the agency provides a nurturing and respectful environment where clients receive services including shelter, meals, shower and laundry facilities, clothing, and Covid protection supplies .
Among the most vulnerable in their care are women living alone on the streets, particularly women over 50 who have limited or no family support, and may struggle with addiction, physical, or mental limitations. Front Door's "Lifted Spirits" program was developed to address the needs of this community by creating a safe, caring, and comforting environment, just for women.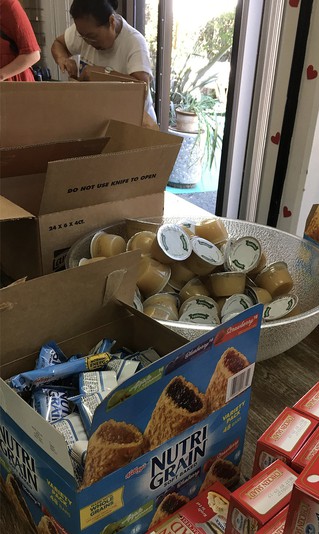 Lifted Spirits helps a population of about 60 women a week. Available services include a drop-in center that provides hot meals, groceries, a clothing boutique, laundry facilities, showers, health care, computer access, and a lounge area where women are safe to rest and socialize. There is also a sleeping room, where women can get a few hours of sleep in a secure environment.
Lifted Spirits has had to pivot due to Covid, so protected outdoor spaces were set up to shield the women from the cold of winter and heat of summer. Sleeping bags, duffels full of supplies and personal items, and shower/laundry services via Dignity Health's mobile van have helped keep guests safe despite pandemic challenges.
These women are a neglected and extremely vulnerable part of our community. Farrington is proud that our community grant program is helping to fund their care and protection.